THANK YOU TO OUR HARD WORKING TEACHERS & STAFF! WE APPRECIATE YOU! We hope your end-of-year appreciation Maryland native flowers are thriving!
CONGRATULATIONS TO OUR AMAZING SENIORS!
Senior parents, there is a Facebook group to help you share ideas about graduation: WCHS Only Class of 2020 Parents
BY APRIL 29 – The Counseling Department is asking all seniors to send a picture of themselves wearing their college gear or holding up a sign (get creative!) celebrating what you are doing after high school to our counselor Ms. May at alia.may@mcpsmd.net. Friday May 1 is "commitment day"/sweatshirt day – the seniors wear the shirt of the school they plan to attend – this is a nice alternative – spread the word – We will make a video to post on our website and Twitter to celebrate our seniors on May 1st. We also encourage you to post your pictures on Twitter or Instagram on May 1st with the hashtags: #CollegeSigningDay#BetterMakeRoom#WCHSBulldogs2020. Please send your College Signing Day photos to Ms. May no later than April 29th in order to be included in the video.
HERE ARE SITES THAT SELL GRADUATION LAWN SIGNS:
https://2020gradsigns.allegrarockville.com/category/Winston-Churchill-High-School
https://shop.whatsuppromotions.com/wj_class_of_2020
FROM MCPS – Last Day of School for Seniors and Graduation Survey – the last day of school for seniors is May 22, 2020.  Many of you have voiced concerns about the uncertainty around graduation for the Class of 2020. We want to hear your thoughts on how MCPS should move forward with recognition and celebrations for the Class of 2020,  and we ask parents of seniors to please complete this brief survey by Friday, May 1, 2020. Seniors will receive a separate survey via email.
STAY CONNECTED DURING VIRTUAL SCHOOL! The Churchill PTSA has started an online parent discussion board as a communications exchange in order to support our families at Churchill HS.
Sign up now at https://wchsparents.groups.io/g/main to start talking with other parents.
Yearbooks are still on sale while inventory is available: www.jostens.com/apps/store/customer/1066605/Winston-Churchill-High-School/
Thank you to everyone who joined us at our February 18 PTSA meeting, 7 – 9 pm in the Churchill Media Center! Rachel sent us her Power Point slides. She welcomes calls at any time, and can provide ongoing guidance and support.
 This presentation will focus on Creating Teen Mental Health from the amazing Rachel Larkin, MA, MSW, Director of Crisis Prevention and Intervention Services at EveryMind. She recently spoke with MoCo parents at the MCCPTA and MCPA Mental Health and Wellness Forum at Earle B. Wood Middle School.  Come with questions and ideas!  Our students' positive mental health and self-esteem is one of the greatest gifts we can give each of them!  Lauren will focus on ways to help us learn how to help our children achieve a state of mental and emotional health wellness, particularly for those students experiencing academic and social stress and anxiety.  She points out warning signals of distress, and emphasizes techniques and strategies to use, and what not to use, to assist.One parent told me at the end of the forum two weeks ago, "I wish so much I had learned all of this information earlier in my life.  It will help my husband and me with our son so much."
Thank you to the students and parents of the PTSA Asian American Committee for a Wonderful Lunar New Year Staff Thank-you Breakfast on Friday! 
For this third year, the students and parents baked, cooked and steamed a very special Lunar New year breakfast for staff. Many thanks to all for the food and the gorgeous decor!  Xīn Nián Kuài Lè! 新年快乐! 
PROUDLY ANNOUNCING OUR TALENTED COUNTY-WINNING REFLECTIONS STUDENTS!
THANK YOU TO EVERYONE WHO JOINED US FOR OUR JANUARY PTSA MEETING ON COLLEGE APPLICATION WRITING!
The media center was packed with over 150 parents and students Tuesday night for our guest speaker on college essays – "How to Find and Communicate your WOW Factor in College Applications." 
Many thanks to Amy Kossoff Smith ( www.PowerHourEditing.com), who gave us an insightful overview of the writing parts of the application process, and recommended thoughtful and provocative techniques to use to stand out in a creative and authentic way. 
She offers a free Essay Roadmap on her website, tips and updates on her Facebook page, and is available for follow-up questions.  Thank you to all who attended!
A giant thank you to our fabulous holiday staff thank you planning committee for a wonderful and festive lunch before winter break! Thank you also to all the parents who contributed gift cards and desserts to the cause; to Gregorio's for their delicious catering; and to our orchestra and jazz bands for serenading!
Announcing a School-wide Anti-Vaping Poster Contest!
The PTSA is offering nine cash rewards of $50 each, and one first place award of $100, for the posters that best illustrate why vaping has no place in our school, and why we should make our school vape-free. Thank you to our amazing new Students Against Destructive Decisions (S.A.D.D.) club; our hard-working parent Substance Use Committee volunteers; and the Churchill administration, for sponsoring this contest. See details here:
Next Steps from our November PTSA Anti-Vaping Forum
Churchill has now formed a S.A.D.D. (Students Against Destructive Decisions) club, headed by senior Louis Schreiber, with school sponsor counselor Ms. Miller. The club is seeking new student club members now! A poster contest depicting the dangers of vaping, with ten winners for cash prizes, is being announced soon – our goal is to educate students and the community about the immediate dangers of vaping, even once, and the tertiary dangers of vape particulates staying at school on desks and floors and walls for up to five weeks. See more information here: https://www.npr.org/sections/health-shots/2019/10/14/767263587/high-school-vape-culture-can-be-almost-as-hard-to-shake-as-addiction-teens-say
Thank you to everyone who gave presentations, including County Council Member Andrew Friedson, Substance Use MCCPTA Parent Chair Laura Mitchell, addiction internist Dr. Mitra Ahadpour, and senior student Louis Schreiber. Thank you to all the parents and students who attended, and for the robust discussion afterwards!
Next Steps from our First PTSA Meeting October 15
Dr. Mitra Ahadpour, our new Substance Abuse Prevention Committee chair, gave an impressive presentation about the effects of vaping on students, and is heading up an anti-vaping campaign for our school. She is actively seeking interested parents and students to help in the roll-out. Please contact her to volunteer, and for more information: ahadpourm@bellsouth.net.
Thank you to everyone who joined us for our first PTSA Meeting in October! We had a wonderful turn-out. We heard from our new Principal-Parent Coffee Conversations Committee Chair, our new Special Education Committee co-chairs, and our NAACP rep and After Prom co-chair.
We approved our budget for the year, and heard a report on the start of school from Mrs. Heckert. Our new SafeTech Committee sponsors facilitated a discussion of cell phone use at school. The agenda is here: PTSA October 15 Mtg Agenda .pdf
Please also see the approved minutes from this meeting, with notes from our discussion of cell phone use at school:
For information about the official MCPS portal that offers an app/tool to help parents navigate the school app environment, click here:  https://www.montgomeryschoolsmd.org/data-privacy-security/technology.aspx
Thank you to everyone who donated snacks and waters and chaperoned for Homecoming!
Thank you to our Churchill families for a wonderful back to school couple of weeks! A huge thank you as well to Attman's Deli in Cabin John, for their generous donation of bagels for our breakfast! – Please support them! And a big thank you to everyone who has joined the PTSA already – our fall membership drive is still ongoing – the cut-off to be listed in the directory this year will be soon…please join! Thank you!
---
Join the Churchill PTSA Today!
The Churchill Flyer
The Churchill Flyer is the PTSA's weekly newsletter that helps keep parents and community members informed about school events, programs, activities and opportunities. As a member of A to Z, you will automatically receive the weekly Flyer.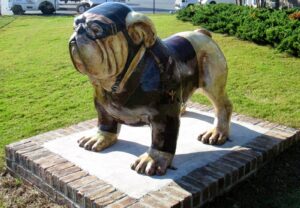 Churchill Flyer content submission requests can be sent by Fridays at 5 pm to: WinstonChurchillHighSchoolPTSA@gmail.com
Amazon Smiles Donation
Please consider signing up to donate a portion of your Amazon purchases to Churchill High School PTSA! Our unique link is: https://smile.amazon.com/ch/52-6070559
Harris Teeter Donation
Please consider linking your Harris Teeter purchases to the Churchill High School PTSA! https://www.harristeeter.com/user/login